Aux portes de Vannes, en Bretagne Sud, découvrez le Golfe du Morbihan
GÎTES DE SAINT NOLFF
Gateway to Vannes, and Southern Brittany, Stay with us and discover the beauty of the Morbihan Bay
Enterdeûz is an old farmhouse, transformed in 2009 into three large, well-equipped self-catering holiday cottages. Each property has its own entrance and will accommodate up to eight people. All of them overlook a picturesque 16th century chapel.
Situated in a peaceful countryside close to the sea, the village of Saint Nolff sits at the gateway to the city of Vannes. With the sea and the city so close, whether you're here on holiday or on business, there are so many things to see and enjoy.
The cotages
Hobbies & Activities
Entrez dans la légende !
Merlin, Viviane, Lancelot... Autant de noms évocateurs pour vous guider dans un séjour emprunt de mystères...
Découvrir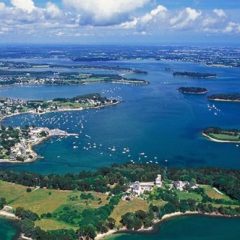 Le Golfe du Morbihan
Pour les amoureux de la nature, le golfe du Morbihan saura vous séduire de par sa diversité et sa beauté naturelle
Découvrir
Vannes, ville d'Art et d'Histoire
Vannes, port du Golfe du Morbihan, au centre du « grand ouest », est un lieu magique où la mer, la terre, le ciel se mêlent en paysages changeants et…
Découvrir
Rates
One week - very high season
How to get to us ?
L.COUËDELO, ST COLOMBIER N°21, 56250 ST NOLFF, FRANCE
GPS: North / South 47.693357 – East / West: 2.677231
Links
Crêpes, Galettes
Fabrication, Livraison , possibilité de location de galétière, de livraison de garnitures de galettes, de service sur place...
Découvrir
Les festivals
La 36e édition du festival JAZZ A VANNES sera gorgée de musiques de toutes couleurs : folk, blues, électro, soul, rock, pop…
Découvrir
Tourisme du département du Morbihan
une destination qui offre la sérénité d'une campagne verdoyante, la fougue de l'océan se jetant sur les côtes, la douceur de l'eau calme du golfe...
Découvrir